---
---
---
Welcome
Christopher J. Bessert
GIS Analyst/Specialist, Cartographer, Transportation Enthusiast, Webmaster.
While Chris has many hobbies and interests, one of his biggest is transportation history. He authors and maintains three websites with complete details on the highway systems of three Great Lakes area states/provinces. Jump to them directly via the following links: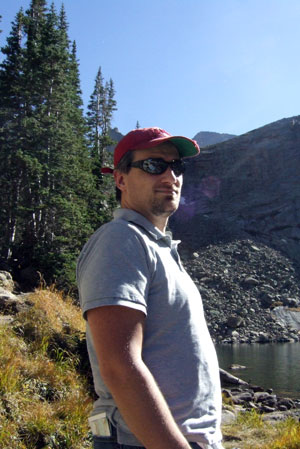 Chris at the "end of the trail" at scenic Black Lake, deep within Rocky Mountain National Park, Colorado, September 2010. (Yes, that's a trail map in his back pocket...)
Otherwise, he still enjoys the cartographic arts. Anyone who knows Chris knows his love of maps and all things geographic-, cartographic- and transportation-related. While his wife, Linda, has always been more than tolerant of his hobby, his daughter, Rachael, ripped the first one of her daddy's maps when she was just over a year old. Yes, daddy needs to make sure his maps are out of the reach of his daughter... but maybe someday she, too, will share her father's interests in them! If not, she'll still be the cutest child ever!
Chris is the GIS Analyst with the Allegan County Land Information Services (LIS) Deapartment, and was previously the GIS Specialist with REGIS in Grand Rapids, Michigan. He actually gets paid to play with GIS data and make maps all day. Of course, his career is much more complex than that, but from the age of four he vowed that he'd someday make maps for a living. Helping manage massive databases, making maps, giving presentations, coordinating user support, creating documents and publications, and being a webmaster, though, wasn't something he thought of while growing up in Howell, Michigan! Mom and Dad are generally still proud of him... although that may be more for the beautiful little granddaughter he and Linda gave them...
This is a website created, authored and maintained by Christopher J. Bessert as a portal for information about him, his GIS, mapping, cartography, transportation-planning and webmastering projects, as well as a home for his resume, portfolio and a listing of many of the computer technologies and softeware he knows how to use.